Happy to have a modular sculpture included in this year's Glenlily Grounds.
Participating artists include Dave Choi, Jamie Chesser, Vivien Abrams Collens, Angela Conant, Tom Costa, David Fekishazy, Daniel Giordano, Beka Goedde, Kate Harding, Sarah Heinemann, Gabriel Hurier, Matthew Kinney, Elisa Lendvay, Matthew Mahler, Kristen Mills, Page Ogden, Naoki Onodera, Ryan Roa, Stuart Sachs, Greg Slick, Elisa Soliven, Jean-Marc Superville Sovak, TiiM Projects: Aya Uekawa and Joseph Ayers, Greg Wall, Susan Walsh, Andy Wilhelm, Ricardo Woo, and Michael Zelehoski
A special thanks to Bonnie and David Fekishazy who own GlenLily for their hard work on the walking path in the woods. Major gratitude to Michael Gabor and Gerardo Castro of Newburgh Art Supply for organizing Newburgh Open Studios.
GlenLily is in the hamlet of Balmville on the west bank of the Hudson River and located at 532 Grand Avenue, Newburgh, NY 12550. It is just north of the Newburgh Beacon Bridge's pedestrian entrance.
---
opening 9/10 Schelfhaudt Gallery: Any Way I See It, curated by Steve Mykietyn
September 10 - October 10, 2022
Opening reception: September 10th, 6 - 10pm
Live performance by
Beat Detectives
at 8pm
Participating artists include: Aaron Anderson, David Bordett, Eric Timothy Carlson, Dave Choi, Emily Davidson, Christopher Dunlap, Elizabeth Ferry, Billy Grant, Georgia Hourdas, Matthew Fischer, Stacy Fisher, Kristen Jensen, Elisa Lendvay, Marie Lorenz, Stuart Lorimer, Dan Mandelbaum, Keisha Prioleau-Martin, Andrea McGinty, Anthony Miler, Craig Poor Monteith, Steve Mykietyn, Jorge Morillo, Ilse Sorensen Murdock, Christine Egaña Navin, Claudia Peña Salinas, Mark Sengbusch, Siebren Versteeg, Zuriel Waters and Jeff Williams.
---
Final weekend to see this new piece at Underdonk in Sunsets, a great group exhibit! 🌟🌈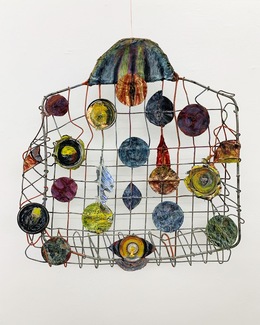 Sucessive Suns, Sol of Sols (present/past points, pure flavor, melon, coordinates) - homage to a flattened bike basket 2020/22
Flattened steel basket, copper, pigment, acrylic and oil paint, burlap, paper, wire, lids and sealers, 20" x 19" x 1"

---
Sunset show at Underdonk!
Up through September 11th in Brooklyn, NY!

What if sunset meant a set (in the numerical sense) in the sun? In this case, we have sets of 2. Two artists who connect around process, subject matter, materials, or just like each other's work. As we bask in each other's glow, these are our sets in the sun of August.
But who doesn't love gazing at sunsets (in the traditional sense of the word)? So these works nod to that big sky expanse too.
Liz Ainslie <——> Maureen Cavanaugh
Chris Bertholf <——> Elisa Lendvay
Erik Dalzan <——> Joey Parlett
Georgia Elrod <——> Christian Chapman
Lauren Hussey <——> Meg Atkinson
Georgia Hourdas <——> Mark Sengbusch
Leonora Loeb <——> Habby Osk
JJ Manford <——> Peter Park
Keisha Prioleau-Martin <——> Dasha Bazanova
Elisa Soliven <——> Christina Bolt
---
"The Material, The Thing" curated by Nicole Hayes at the Dorsky Museum opening June 22nd, reception 5–7pm
I'm excited to be included in this exhibit opening this Wed, 6/22, 5 - 7pm

Hudson Valley Artists 2022: The Material, The Thing
Curated by Nicole Hayes
June 22 – November 6, 2022
Alice and Horace Chandler Gallery and North Gallery

The Material, The Thing, the 15th annual Hudson Valley Artists exhibition, considers how artists understand and reimagine the material culture in which we live. Featuring twenty-six artists who live and work in the Hudson Valley, the exhibition includes work that investigates materials and their physical and cultural properties. Through a wide range of artistic practices, the artists consider the inherent beauty of physical materials and create work that questions or champions the things produced by our culture.