New Geometry II opening 2/10 Amy Vensel, Will Lustenader, Don Voisine, Ruth Hiller, Robert Storr, Power Boothe, Steve Bartlett, Elisa Lendvay, Gregg Blasdel, and Grace DeGennaro.
​
NEW GEOMETRY II
February 10 - March 10, 2018
Opening Reception
Saturday, February 10th, 6 – 8 PM
It was 1968 and the first day of New Geometry at Cheshire High School. The teacher passed out the textbook, informing students that a new one was on order and would arrive soon. The old textbook, from the 1950's with it's solid maroon cover, seemed daunting, having more information than anyone could ever learn. Nerves were heightened with the arrival of this "new" version. It had a jazzy green and pink cover and was full of hard-edged 1960's graphics and color. It soon became clear, that although this new book was teaching the same lessons, it was presenting a fresh perspective. While the rigor was still present, there was a degree of levity that seemed to open a door. "New Geometry" is inspired by those first few days of New Geometry in 1968.
​
We are pleased to present the work of Amy Vensel, Will Lustenader, Don Voisine, Ruth Hiller, Robert Storr, Power Boothe, Steve Bartlett, Elisa Lendvay, Gregg Blasdel, and Grace DeGennaro.
Fred Giampietro Gallery is located across the street from the Yale University Art Gallery and the Yale Center for British Art, less than 1 mile from interstate I-91 and Union Railroad Station at
1064 Chapel St., New Haven, CT 06510
. Gallery hours are Monday –Saturday 11am – 5pm or by appointment. For more information please call the Gallery at (203) 777-7760
---
The Giving Body at Underdonk
I'm happy to be part of this lovely little group exhibit curated by Elisa Soliven at Underdonk Gallery in Buskwick, NY.

Underdonk Presents:
"The Giving Body"
December 1st-December 31st, 2017
Opening Reception: December 1st, 6-9pm
Gina Beavers
Genesis Belanger
Carl D'Alvia
Rebecca Gilbert
Hugh Hayden
Hein Koh
Elisa Lendvay
Justin Q Martin
Keiko Narahashi
Rose Nestler
Sarah Peters
Leah Tacha
Curated by Elisa Soliven

Underdonk is pleased to present, "The Giving Body", a group exhibition including
artists: Gina Beavers, Genesis Belanger, Carl D'Alvia, Rebecca Gilbert, Hugh Hayden, Hein Koh, Elisa Lendvay, Justin Q Martin, Keiko Narahashi, Rose Nestler, Sarah Peters, and Leah Tacha. The works in "The Giving Body" evoke the human form with an emphasis on process and materials. In various ways, both overtly sculptural and in high relief, these works inscribe the body with expressive qualities.
The pieces in this exhibition take a wide approach to representing the human figure, from soft sculpture to more traditional use of materials such as bronze, wire, and clay. Rose Nestler's point of departure is "… the delicacy and imperfections of bodies. She uses fabric as a sculptural material because it is linked to clothing – our second skin." Sculpture here is myriad. Hugh Hayden, through camouflage "explores the underlying infrastructure, relationships and systems of social interactions." While some of the artists, Beavers and Gilbert, use appropriation as a method or jumping off point, all the artists merge found and molded elements in a transformative fashion. Rebecca Gilbert, "remakes everyday objects as sculptural copies, creating small interventions within commonly understood forms. While exploring still life, portraiture, the female body, humor and memories- it is the act of copying that underpins the breadth of her practice." The work in this show conscientiously embraces the idea that there are multiple ways to invest the body with gesture. Keiko Narahashi "believes that forms contain occult meanings, but like emotions, or beauty, they are unreliable and subject to strange transformations." While working from memory, copying, or from lived experience, these artists transform the body into something new.
Each of the artists in this exhibition is unique in the ways in which they articulate the body, either through repetition of forms, layering of material, inscribing of line, unusual juxtapositions, stitching of fabric, modeling of forms, and welding of line. Elisa Lendvay's "works present interplays among internal vision, observation of nature, and corporality to generate moments of perception, truth, and whimsey." The body is shown, not only as a whole, but in parts, and often abstracted. For Genesis Belanger, "by looking at advertisements one can deduce that disembodied women's hands can be used to sell just about anything. My hands don't sell telephones or cake mix but rather abstracted ideas of weakness and indulgence." Carl D'Alvia's bronze pieces also explore the dichotomies of the comic and tragic. With this work, the body part embodies the whole. Hein Koh's "stuffed shiny fabric sculptures are surrealist mash-ups of body parts and symbols, comprising a diaristic lexicon inspired by memories, feelings and personal experiences." What binds all this work together is a generosity in imbuing organic sensuality while also showing the process of its making visible to the viewer. For Leah Tacha, "instead of the pieces trying to be some kind of perfect form, they are exactly what they appear to be: strong, standing their ground, a bit ceremonial in form even if slightly off balance." "The Giving Body" brings together sensibilities that are searching to convey an awkward humanness and emotion in their stance.
—Elisa Soliven, November 27, 2017

---
September at Giampietro: Elisa Lendvay and Becky Yazdan: Under The Apple Tree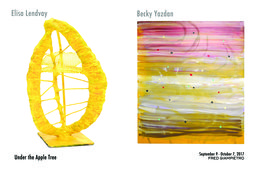 I'll have a new series of floor sculptures, tabletops, wall installation, and drawings.


September 9, 2017 - October 7, 2017
Opening Reception is Saturday, September 9, 6-8pm
1064 Chapel Street
New Haven, CT 06510
203.777.7760
---
Exhibit at Matteawan Gallery, Beacon NY
post-magic symbiosis



Vernon M. Byron, Olivia Drusin, Daniel Giordano, Kathy Goodell, Gabriel Hurier,




​Elisa Lendvay, Matthew Mahler, Patrick Mangan, and Esperanza Mayobre



Curated by Lacey Fekishazy

"A dream you dream alone is only a dream. A dream you dream together is reality." ― Yoko Ono & John Lennon

April 8 - May 7, 2017



436 Main Street, Beacon, NY 12508 info@matteawan.com 845 440 7901




---
My Sculptures on Park Avenue
I'm happy to have an installation of sculptures up at 583 Park Ave, NYC for the New York Foundation Hall of Fame Benefit on April 4, 2017.